Wheelchair Rugby is an exciting team sport that was originally designed for people with the physical disability, quadriplegia. The rules were developed using rules from a number of sports and the game is played using a volleyball with the objective to score points by carrying the ball over the opposition's try line. It is a contact sport and the physical contact between wheelchairs is an exciting part of the game.

Sporting Wheelies provides a number of opportunities for new players to improve their skill level and fitness, such as local programs, training sessions and development camps.
If classified, players also have the opportunity to compete in Wheelchair Rugby at regional, state, national and international level, including the Paralympics. Whilst all physical impairment groups and able-bodied players are welcome at local programs, you must have a classification in order to compete at a National or International level.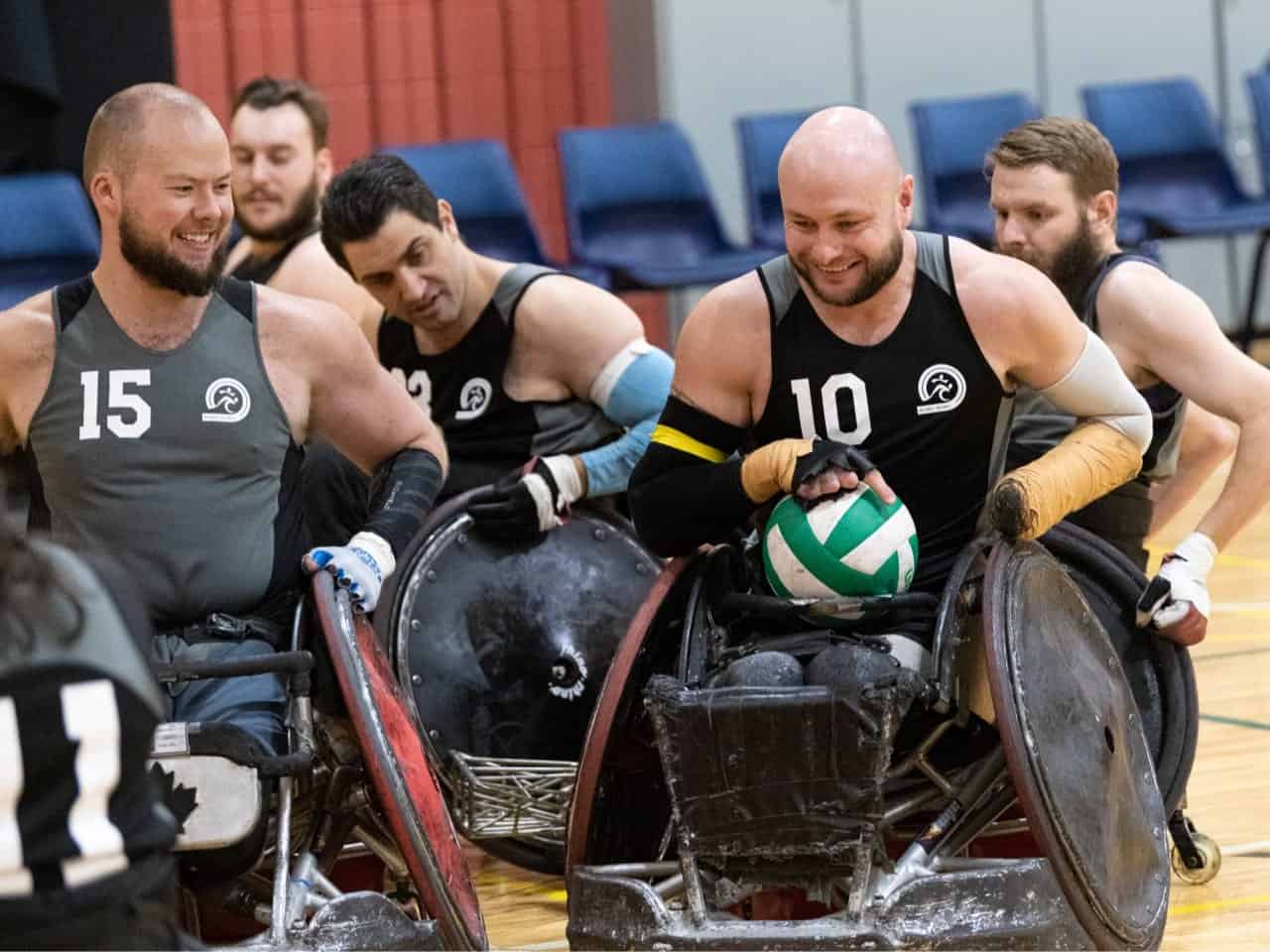 Our Wheelchair Rugby Programs
Gold Coast (2 hours of qualified refereed games)
Week
Date term 4, 2023 Wheelchair Rugby Gold Coast
Day: Tuesdays
Time: 5 - 7pm
Location: Tallebudgera Leisure Centre
1
17th October 2023
2
24th October 2023
3
31st October 2023
4
7th November 2023
5
14th November 2023
6
21st November 2023
7
28th November 2023
8
5th December 2023
Brisbane (1 hour of skills development & 1 hour of refereed games)
Week
Date term 4, 2023 Wheelchair Rugby Brisbane
Day: Mondays
Time: 6:30 - 8:30 pm
Location: Sporting Wheelies Clubhouse
2 Kilroe Street, Milton QLD 4064
1
9th October 2023
2
16th October 2023
3
23rd October 2023
4
30th October 2023
5
6th November 2023
6
13th November 2023
7
20th November 2023
8
27th November 2023
Upcoming Competitions
Please check the calendar of events to find out more about upcoming competitions.
Calendar of Events
Throughout the year a range of Sports programs and events are held, to view the complete calendar of events please select the link below.
Wheelchair Rugby – National League Competition
The Santos Wheelchair Rugby National Championship returns in 2023! Across 3 days, the Gold Coast will play host to the best of Australian and International wheelchair rugby.
The 2023 Santos Wheelchair Rugby National Championship will be from held Friday, 2 – Sunday, 4 June 2023 at the Gold Coast Sport & Leisure Centre .
State Team Selection
The process of selecting members for the Queensland State Wheelchair Rugby Team is a rigorous one, which involves multiple stages and evaluations. Prospective athletes are assessed based on various factors, including their skill level, physical ability, and overall performance. Only those who meet the high standards set by the team's selectors are ultimately chosen to represent Queensland in competitive wheelchair rugby tournaments. Read the State Team Selection Policy here
Other Roles
You do not have to play Wheelchair Rugby to be involved. You can contribute as a volunteer, coach, team manager, umpire, administrator of the sport or as an enthusiastic supporter.
For more information on volunteer opportunities, please get in touch with us below.
Watch the introductory video