Goalball is an exciting team sport for athletes with a vision impairment and sighted players of all ages. Two teams of three blindfolded players throw a bell-ball towards their opponent's goal, using their body to protect their own goal. The game requires team communication, coordination and strategic skills and offers many social and physical benefits as well.
Sporting Wheelies provides development opportunities for new players to improve their skill level and fitness at training sessions and competitions. Players can also compete in representative Goalball at state, national and international level, including the Paralympics.
Whilst sighted players can compete up to National level, a vision impairment classification is required to compete internationally.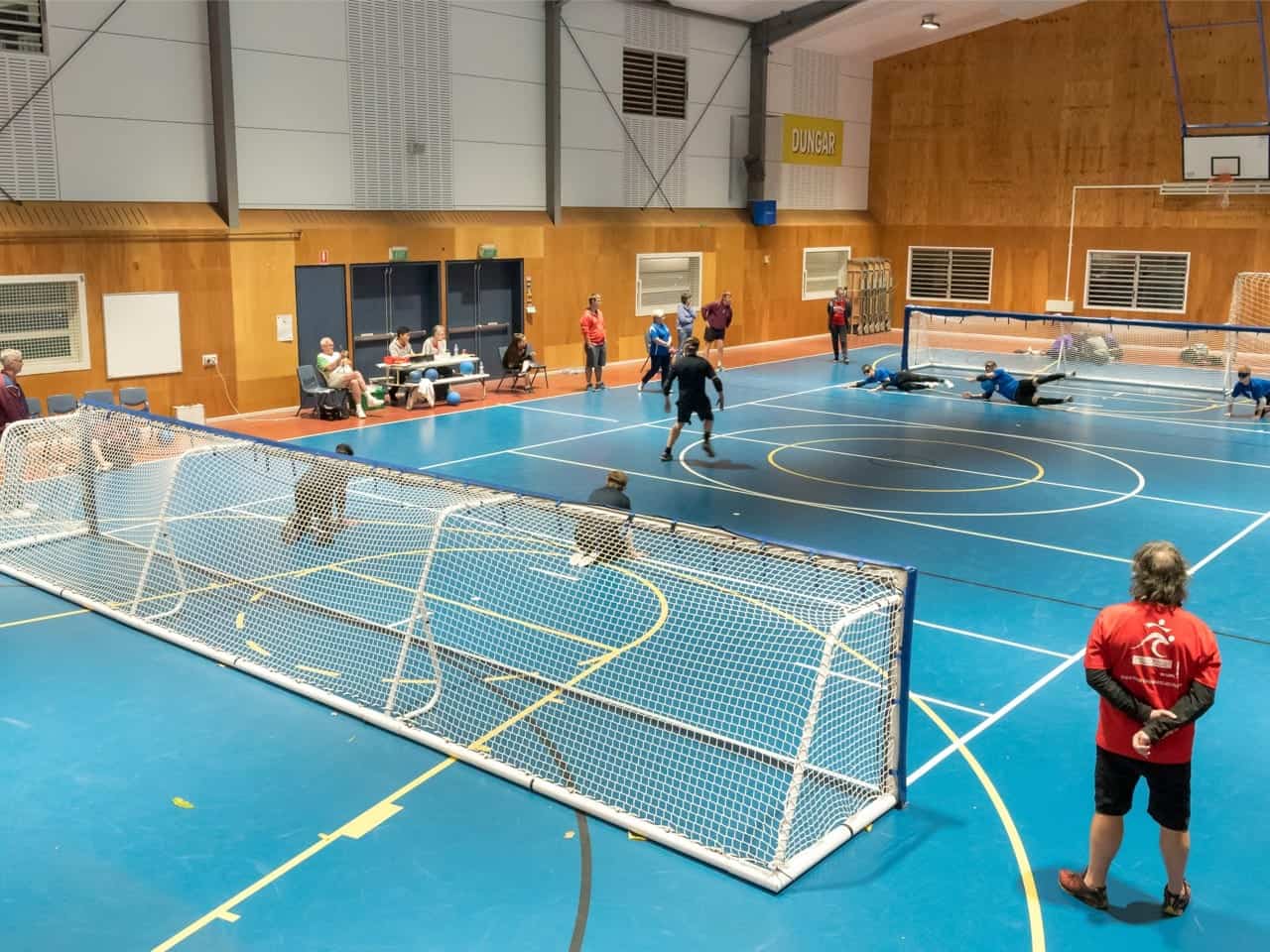 Our Goalball Programs
Sporting Wheelies offers Goalball programs in Brisbane, Townsville and Cairns and will continue to expand throughout the state.
All new Goalball players will receive their first two (2) sessions for free and will have access to Goalball equipment (goalball, eyeshades and arm/knee pads) at the program.
If members wish to continue participating after their two free sessions, they can register with the program officer and once they become familiar with the sport, they will be encouraged to purchase pads and eyeshades of their own.
Other Roles
You do not have to play Goalball to be involved.  You can contribute as a volunteer, coach, team manager, official, administrator of the sport or as an enthusiastic supporter.
For more information on volunteer opportunities, please get in touch with us below.
Upcoming Competitions
Sporting Wheelies organises regional and state-based competitions throughout the year. Once you have joined a local program, entry to these competitions is open to you.
Hells Bells Competition 
Saturday 16th July and Sunday 17th July 2022
31 Dover St, Albion
Hells Bells Competition Format- Schedule
 

SATURDAY 16th of July 2022

 
 
 
 
 
 
 
 
 

Time

Division

Team

vs

Team

9am

Men

RED

v

BLUE

10am

Women

PURPLE

v

YELLOW

11am

Men

GREEN

v

RED

12noon

Women

YELLOW

v

AQUA

1pm

Men

BLUE

v

GREEN

2pm

Women

AQUA

v

PURPLE

3pm

Men

BLUE

v

RED

4pm

EXHIBITION MATCH (TBC)

Belles

v

Youth Boys

 
 
 
 
 

SUNDAY 17th of July 2022

 
 
 
 

Time

Division

Team

vs

Team

9am

Women

PURPLE

v

AQUA

10am

Men

RED

v

GREEN

11am

Women

YELLOW

v

PURPLE

12noon

Men

GREEN

v

BLUE

1pm

Women

AQUA

v

YELLOW

2pm

Men Grand Final

1st place

v

2nd place

3pm

Women Grand Final

1st place

v

2nd place

4pm

PRESENTATIONS
Calendar of Events
Throughout the year a range of Sports programs and events are held, to view the complete calendar of events please select the link below.
Watch the introductory video